Stencils instead of decals

by Christian Jakl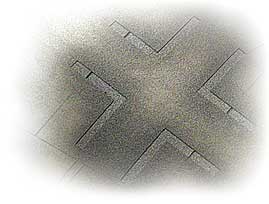 Who does not know about the "silvering" of decal film that lets an outstanding paint job look old. This is especially true when the paint is not as glossy and the decal does not cling very well. There are two ways to address this problem:

Either one cuts the carrier film from the moist decal which is troublesome and fidgety work or one uses stencils and spray paints the marking in question. One cannot dismiss decals totally since small designs and small lettering can only be applied in decal form. To the larger markings that the eye is immediately attracted to, a very good result can be achieved with stencils. The advantage here is the opacity of the paint can be varied and it also eliminates problems with recessed panel lines in large areas to be covered.




National emblems and markings:

The basis for the stencils is the decal sheet contained in the kit. Lay a relativly thick sheet plastic foil on top of the decal sheet and fix it firm with tape. Then use frisket paper (in my case Revell Masking foil) and stick it on top of the plastic foil beneath it. With a ruler and a sharp knife cut out your mask based on the decal underneath. Use curved template rulers available in office supply stores for curves and circles. Pull the mask carefully from the backing and apply to model making sure of proper alignment. If more than one color is needed it is only a matter of time and number of masks. Even American markings should not be a problem.

Image 1:
The basis, the decal

Image 2:
Positioned and airbrushed. Short drying period.

Image 3:
Same mask on the other side of the fuselage, a new one is not necessary

Image 4:
National emblem? This is only possible with Luftwaffe models but very simple.

Image 5:
Outline lettering or multi-colored motifs...

Image 6:
...a little more effort, but an acceptable result .


A little tip: After a short drying period pull the mask off. The Revell mask leaves after multiple uses remnants of adhesive on the paint job. Take care here and make sure to use more than one thin dry coat rather than a wet coat because this leaves a noticeable ridge when the mask is removed.

It is possible with this method to create a model that is different from the decal instructions and can be individualized. Other markings are possible and expands the possibilities of what can do with the models on has on hand.




Other possibilities:

Arrows, lines, invasion stripes etc. No problem. Everything that is not a drawing can be airbrushed... For me walkways always presented an optical problem and that is why I came up with the following solution to the problem of getting rid of the ugly carrier film.
Image 7:
Using Tamiya masking tape mask of the edges of the walkways.

Image 8:
On a properly fitted piece of frisket paper cut small windows at regular distances. This is then firmly glued on the masked edges of the walkway. Make sure you firmly press down on the frisket paper.

Image 9:
Airbrush! You decide on the opacity of the paint. If you are careful and apply the right amount of paint (not too wet) you can pull the mask of right away and proceed briskly with your work.

Conclusion:

A good result can only be achieved with additional efforts. For sure it is easier and faster to apply decals with softener and water, but the decal carrier will remain. It may not be visible at first glance, but it will appear if you look at the decal from different angles. With my type of painting this effect will be eliminated. But it needs lots of masking tape, foil and a Rucksack of patience.
| | | |
| --- | --- | --- |
| | | |
| | | |
| | The end result is acceptable. Weathering does not present a problem any more since the decal cannot interfere.There are also no more problems with engraved panel lines. | |
| | | |
meet the author

Christian Jakl

I was born in Vienna in 1971 and now I live in the middle of the mountains in the Tyrol district. I am in marketing and my specialty is graphic design and layout. Ships, planes and automobiles is how it started and now I have taken up aircraft models only. I concentrate on the German and Soviet air force. My favorite mode of display are dioramas in 1/48 scale. Here I can let my imagination run wild and can produce many of parts. Experimentation and the use of new techniques are foremost on my mind. I also combine stock kits with other add onís and try out new tools. There is always a lot to learn.

It is not all that important to me if a detail is no exactly in the right spot; the final product has to look right. If somebody stands in front of my model and is enthused then I did my job right. The only problem I have is the time factor and in this I probably not alone. I wish everybody a lot of fun with this page and hope that critiques and comments are forthcoming.
Email: jakl.christian@gmx.at


This page: THEMES: Stencils instead of decals
was last modified on: Jul 14, 2004
The URL of the page is: http://www.rlm.at/cont/thema03_e.htm

© Copyright www.rlm.at and the contributing author(s). All Rights Reserved. Used with permission.

Terms of use: All material within this site is protected under copyright and may only be reproduced for personal use. You must contact the Author(s) and/or Editor for permission to use any material on this site for any purpose other than private use!