Junkers Ju 87 of Schlachtgeschwader 2 "Immelmann"

Luftwaffe Aviation Art - Color profiles by Simon Schatz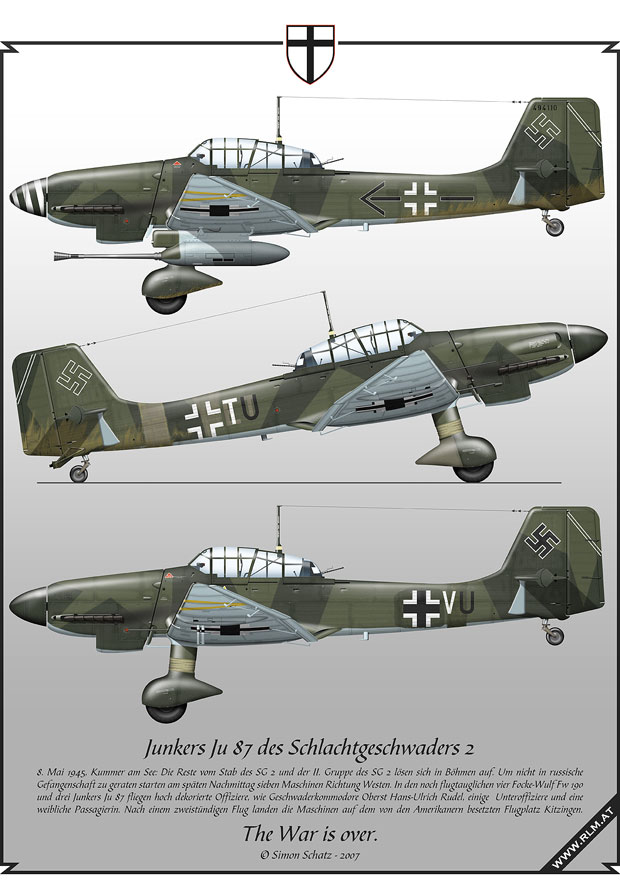 Markings

Junkers Ju 87 G-2 W.Nr. 494110 <-+-, Stab/SG 2
Junkers Ju 87 D-5 W.Nr. unknown, +TU, 10. (Pz)/SG 2
Junkers Ju 87 D-5 W.Nr. unknown, +VU, 10. (Pz)/SG 2




References / profiles

Luftwaffe over Czech Territory 1945
Jiri Rajlich Stanislav Kokoska, Ales Janda, JAPO pages 121 to 127




History

On the May 8th 1945 the remnants of the staff flight and the 2nd Gruppe of SG 2 decided to disband near Lake Kummer on Czech territory (Bohemia). In order to avoid becoming Russian prisoners of war they decided to fly as much personnel as possible to the closest airfield (Kitzingen) occupied by the Americans. Seven aircraft take off. The rest of personnel have to risk making it the hard way-walking. The convoy was almost wiped out and only a few manage to escape. The seven aircraft are also attacked by Russian fighters but were able to escape without losses. After about two hours they land in Kitzingen and six officer, six sergeants and one female civilian surrender to the Americans.


List of the aircraft and personnel that landed in Kitzingen:


Type
Markings
W-Nr.
Unit
Personnal
Ju 87G-2
black <- + -
494110
Stab/SG 2
Colonel Hans-Ulrich Rudel;
Captain Ernst-August Niermann
Ju 87D-5
+ TU
?
10.(Pz.)/SG 2
master sergeant, sergeant,
female civilian
Ju 87D-5
+ VU
?
10.(Pz.)/SG 2
First Lieutenant Hans Schwirblat
FW 190A-8
black << + -
171189
Stab II./SG 2
Major Karl Kennel
FW 190A-6
white 2 + -
550503
4./SG 2
?
FW 190F-8
white 9 + -
585584
4./SG 2
?
FW 190F-8
white 12 + -
583234
4./SG 2
?

Additional informations

Ju 87G-2 W.Nr. 494110, Black <-+-, Stab/SG 2
The aircraft flown by Hans-Ulrich Rudel was painted RLM 70/71/65. The wing commander's markings were painted black with a white border. The crosses and swastika were painted in the simplified fashion of the last months of the war. The six digit work number was painted black. The spinner originally painted RLM 70 was supplemented with a white spiral. The tail plane had two white diagonal lines, common on SG 2 aircraft. The left wing still had the yellow V. These served to identify Luftflotte 4 aircraft. Hans-Ulrich Rudel crash landed this aircraft in order not to hand the Americans an air worthy machine.

Ju 87D-5 W.Nr. unknown, +TU, 10. (Pz.)/SG 2
This aircraft transported amongst others a civilian female, probably a girlfriend of one of the crew members. It was probably for this reason that the aircraft was not deliberately crash landed. The aircraft was also painted RLM 70/71/65. The former call letters and yellow fuselage band were probably painted over with RLM 02. The rear main landing gear pants were also painted the same way. Crosses and swastika were the same as on Rudel's machine. The yellow V under the left wing and the two white lines on the tail plane were also there. Further peculiarities of this aircraft were a mounted glider tow, no dive brakes. Noticeable are the missing Geschwader call letters T6.

Ju 87D-5 W.Nr.unknown, +VU, 10. (Pz)/SG 2
The machine flown by First Lieutenant Schwirblat was also crash landed and rendered unflyable. The camouflage was slightly different from the other aircraft. The fuselage band was painted over; crosses and swastika had a black border. Geschwader markings were also missing.



I want to thank Andrey Arthy who gave permission to use the information from his website http://fw190.hobbyvista.com/kitzingen.htm as a basis for my article.

Publications:

Junkers Ju 87 Stuka

Robert Michulec, Mushroom Model Publications

The three Ju 87 color profiles originated from a series of color profiles from the above mentioned book. My thanks go to Mushroom Publications for the chance to publish my profiles.
meet the Author:

Simon Schatz

1978 I was born in Vienna and I am working as technical employee in an architect's office. I am building plastic models since I am 12. It started with a F-16 Fighting Falcon in 1/32, which was followed by a few cars and trucks. A Heinkel He111 H-6 in 1/72 brood my interest for the German Luftwaffe. Since 2001 I am creating color profiles also.

Some of them have been already published in relevant magazines and books. The motto for building models and drawing profiles is the same: Learning by Doing. To practise my passion it is required to collect the necessary documentation, an expensive, but interesting hobby, especially when I can obtain rare second hand aviation antiquars.
Email: simon_der_flieger@yahoo.de
Online-Portfolio / Publications


This page: PROFILES: Junkers Ju 87 des Schlachtgeschwaders 2 "Immelmann"
was last modified on: Sep 14, 2008
The URL of the page is: http://www.rlm.at/cont/profil18_e.htm

Translation into English by Werner Stocker (Ft. Myers, FL USA).
© Copyright www.rlm.at and the contributing author(s). All Rights Reserved. Used with permission.

Terms of use: All material within this site is protected under copyright and may only be reproduced for personal use. You must contact the Author(s) and/or Editor for permission to use any material on this site for any purpose other than private use!