Focke Wulf Fw 190 A-8/R11, flown by Günter Migge

Luftwaffe Aviation Art - Color profiles by Simon Schatz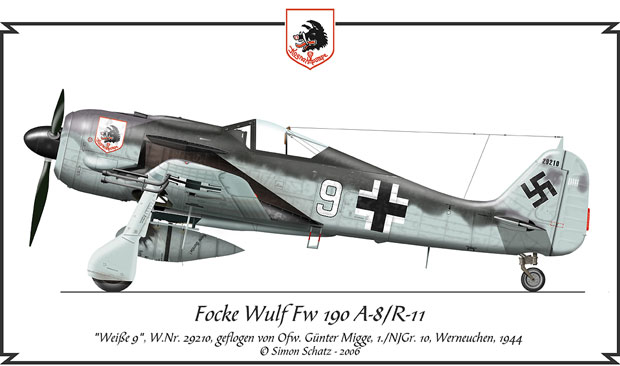 Markings

"White 9", W.Nr. 29210, flown by Oberfeldwebel Guenter Migge, 1./NJGr. 10, Werneuchen, 1944




References / profiles

Focke Wulf Fw 190-Ta 152 Entwicklung-Technik-Einsatz, Heinz J. Nowarra
Motorbuch Verlag, page 100

Fock-Wulf Fw 190/Ta 152 Jäger-Jagdbomber-Panzerjäger, Griehl/Dressel
Motorbuch Verlag, page 131

Jagdgeschwader 300- The wild huntsman, Bethke/Henning
Eigenverlag, pages 46, 47, 51

Werneuchen - Die Geschichte eines Fliegerhorstes in Brandenburg, Bukowski/Dobbermann
JOMO Medien-Service, Köln, pages 62, 67




Additional informations

The plane is painted in the colours RLM 74/75/76. The exhaust-eagle as well as the spinner are painted in RLM 22 black. The blades are RLM 70 blackgreen. The meaning of the white rectangle is still a mistery. Whether it is xxx or a improvement of the rudder bracing has not been claryfied by now, and there will never be an answer to this question without any detailshots. The Fw 190 A-8/R-11 is equipped with the radar system FuG 218. The ringantenna FuG16ZY has been removed. The flame damper of the MG 131 should be taken into consideration as well.




Question

Does anybody own a detailshot of the rudder in order to solve the misery of the white rectangle?
What happened to Guenter Migge and his plane?

Focke Wulf Fw 190 A-8/R11 - Details

The details shown below are 50% of the original size

| | | | | | | |
| --- | --- | --- | --- | --- | --- | --- |
| | | | | | | |
| Cockpit | | Tail wheel | | Engine Cowling | | Wing |

(click the images to enlarge)
meet the Author:

Simon Schatz

1978 I was born in Vienna and I am working as technical employee in an architect's office. I am building plastic models since I am 12. It started with a F-16 Fighting Falcon in 1/32, which was followed by a few cars and trucks. A Heinkel He111 H-6 in 1/72 brood my interest for the German Luftwaffe. Since 2001 I am creating color profiles also.

Some of them have been already published in relevant magazines and books. The motto for building models and drawing profiles is the same: Learning by Doing. To practise my passion it is required to collect the necessary documentation, an expensive, but interesting hobby, especially when I can obtain rare second hand aviation antiquars.
Email: simon_der_flieger@yahoo.de
Online-Portfolio / Publications


This page: PROFILES: Focke Wulf Fw 190 A-8/R11, flown by Günter Migge
was last modified on: Feb 1, 2005
The URL of the page is: http://www.rlm.at/cont/profil07_e.htm

© Copyright www.rlm.at and the contributing author(s). All Rights Reserved. Used with permission.

Terms of use: All material within this site is protected under copyright and may only be reproduced for personal use. You must contact the Author(s) and/or Editor for permission to use any material on this site for any purpose other than private use!