Suchoi Su-27, Ukrainian Airforce

built by Christian Jakl (1/48)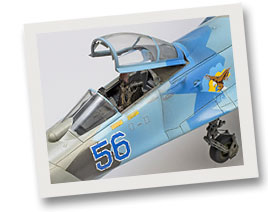 Suchoi Su-27: This airplane type made headlines with the famous Cobra maneuver. This maneuver can only be flown by very few jets. The pilot changes the angle of the aircraft in relation to the flight direction 90 degrees upwards. The aircraft rears up like striking cobra. In effect a full breaking maneuver. This was demonstrated at the Paris air show at le Bourget in 1989. This maneuver however is not possible with wing armaments.




The kit

I am back again! After a three year self imposed vacation I am back again at my workbench. One does not lose the basic skills but the challenge lies in getting organized, not to lose the overall picture, and where the tools and the accessories are.

Right at the very beginning the first challenge the Suchoi 27 kit from Eduard. Not because of the kit because it is just a reissue of an earlier Academy kit with Eduard accessories. The finish of the Ukrainian version however requires a lot of patience and quite a bit of masking tape. Since everybody who knows me, understands that I really do not care if the model is a 100% replica of the original but that the overall impression is important to me, I exaggerate shadows and three dimensional appearance. For a first model after a three year pause, the model is not so bad. For me personally still a far cry from my personal taste for perfection but still good enough to show.

Why the Suchoi-27? Very simple! For me it is the most beautiful and elegant warplane in the world. Since I am easily excited when it comes to exotic paint schemes, and the eastern European paint schemes offer such a variety this gives me an excuse to really go to town. The kit itself has its lows since it does show its age compared to newer kits. For instance the wings are bent downwards and are hard to bend straight. The nose also does not totally conform to the original. Eduard has corrected quite a bit starting with the cockpit and the ejection seat.

Landing gear innards have little detail. Flaps and other movable control surfaces are actually movable. For the tires I used Brassin # 648053 by Eduard. The rest of the details are to be found in the kit ...
Suchoi Su-27, Ukrainian Airforce (1/48)

Model built by & images taken by Christian Jakl

Gallery with diashow function: the direct download of an image on display is not possible anymore!
Please follow these steps for downloading: move with the mouse over the preview image and do a right mouseclick, which opens a menu with following option: save target (or link) as: will save the image in large size …

(click the images to enlarge)

meet the modeler

Christian Jakl

I was born in Vienna in 1971 and now I live in the middle of the mountains in the Tyrol district. I am in marketing and my specialty is graphic design and layout. Ships, planes and automobiles is how it started and now I have taken up aircraft models only. I concentrate on the German and Soviet air force. My favorite mode of display are dioramas in 1/48 scale. Here I can let my imagination run wild and can produce many of parts. Experimentation and the use of new techniques are foremost on my mind. I also combine stock kits with other add onís and try out new tools. There is always a lot to learn.

It is not all that important to me if a detail is no exactly in the right spot; the final product has to look right. If somebody stands in front of my model and is enthused then I did my job right. The only problem I have is the time factor and in this I probably not alone. I wish everybody a lot of fun with this page and hope that critiques and comments are forthcoming.
Email: jakl.christian@gmx.at


This page: GALLERY: Suchoi Su-27, Ukrainian Airforce (1/48), built by Christian Jakl
was last modified on: Jan 04, 2014
The URL of the page is: http://www.rlm.at/cont/gal42_e.htm

Translation into English by Werner Stocker (Ft. Myers, FL USA).
© Copyright www.rlm.at and the contributing author(s). All Rights Reserved. Used with permission.

Terms of use: All material within this site is protected under copyright and may only be reproduced for personal use. You must contact the Author(s) and/or Editor for permission to use any material on this site for any purpose other than private use!