Büssing NAG 4500 (Azimut)

built by Hannes Matzner (1:35)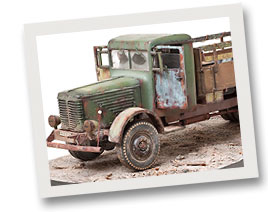 The rather aged resin kit from Azimut is in its totality a bit meager. Nicely packed, there is not a single part made from resin and white metal that has not to be reworked. Some parts are warped or contain air bubbles and important details such as the steering mechanism are missing. However it does contain parts for the 3 ton crane and that isn't shabby.

Other manufacturers of injection molding and resin kits have learned how to do it better. I started with the main chassis, which should not be a problem with the exception of the above mentioned ones, for the experienced modeler. The leaf spring and the axle are made of white metal and are relatively robust. The drive shaft had to be lengthened because of the fact that they were too short. I fashioned the exhaust pipes from aluminum tubes. I also fashioned screws, piping and mud flaps from spare plastic and aluminum foil.

The car body, the operators cab and the engine cover did not fit very well and had to be re fashioned. In order to fit lower and upper parts together there was a lot of sanding and then fitting the parts to a thin plastic sheet. The door openings were too large and the doors had to be fitted with plastic sheet and filed down in order to give the proper fit. From the spare box came various photo etch parts to fashion handles, fasteners and also view rods. The windshield and side windows were made with paper templates. The fenders were hollowed out etc. The rear load space had to be straightened with the aid of hot water and a hair dryer in order to fit properly. In order to achieve the proper height of load space to the rest of the vehicle and for the reserve tire to fit properly, a square plastic strip will have to be fitted.




Painting

The model was primed with "Motip" automotive primer. It is inexpensive and very finely pigmented which makes it possible to show all detail. I followed this with pre shading, which I believe needs not to be discussed here. I am actually now at the point to start the actual painting. I use very thin layers of colors that have lighter. I use Tamiya acryl red tones to simulate the rust protection paint.

I use a variety of colors in order to avoid the monotony of color and to strengthen the well used look. I try to use the "color modulation" method used by Adam Wilder but in a slightly altered form. To represent color chipping I used the hair spray method and a variety of Gunze liquid latex. After a little post shading, I sealed the whole thing with Gunze clear. After the colors have thoroughly dried I do some "washing" and micro painting with pure oil paint or a mixture of Mig pigments mixed with Mig thinner which I believe gives the correct "dried" effect. I use spot remover to keep the colors from drying too quickly.

The dried mud effect is done with a mixture mig pigments acryl colors and "Lascaux" acryl emulsion. On the truck bed there is a variety of diverse cargo including a Zundapp KS 750 by Lions Roar which I converted into a "Wehrmacht bopper" with a shortened rear fender and lowered seat. Such improvised versions could be found in wartime photographs and fits to the overall appearance.
Büssing NAG 4500 (Azimut) 1:35

Model built by Hannes Matzner, photos taken by Wolfram Bradac

Gallery with diashow function: the direct download of an image on display is not possible anymore!
Please follow these steps for downloading: move with the mouse over the preview image and do a right mouseclick, which opens a menu with following option: save target(or link) as: will save the image in large size …

| | | | | | | |
| --- | --- | --- | --- | --- | --- | --- |
| | | | | | | |
| Image 1 | | Image 2 | | Image 3 | | Image 4 |
| | | | | | | |
| | | | | | | |
| Image 5 | | Image 6 | | Image 7 | | Image 8 |
| | | | | | | |
| | | | | | | |
| Image 9 | | Image 10 | | Image 11 | | Image 12 |
| | | | | | | |
| | | | | | | |
| Image 13 | | Image 14 | | Image 15 | | Image 16 |

(click the images to enlarge - the images are shown on a new page)



Conclusion

This is a resin kit not of contemporary quality but nevertheless worth the challenge.




History

The Büssing AG was founded by Heinrich Büssing in 1903. The official description was Heinrich Büssing special factory for motor trucks, motor buses and motors located in Braunschweig, Elm Street. Büssing developed into one of the largest manufacturers of buses and trucks in central Europe with considerable exports overseas. Since the 1930s the buses with the lion's symbol graced the traffic patterns of many a metropolis. Specialties of Büssing were vehicles with under floor motors. In 1971 Büssing was taken over by MAN.
| | | | | |
| --- | --- | --- | --- | --- |
| | | | | |
| | meet the modeler | | | |
| | Hannes Matzner | | | |
| | | | | |
| | II was born in Graz, Austria in 1970 and after a shaky interest in educational betterment, my parents sent me into an apprenticeship and after extensive travel here and abroad, I decided to become a dental technician. My first experience in modeling came during 1976 when after a lot of begging and tearful fits; I received my first Me-109 kit. My first try to cover the kit with Humbrol, black also spilled this color on my mothers prized living room table. The memory of this occasion is still very much with me. The living room table has not existed for a long time but my enthusiasm for model building is still a reality, despite other temptations. | | | |
| | | | | |
| | Email: hannes.matzner@gmx.net | | | |
| | | | | |


This page: GALLERY: Büssing NAG 4500 von Azimut (1:35) - built by Hannes Matzner
was last modified on: Feb 07, 2010
The URL of the page is: http://www.rlm.at/cont/gal37_e.htm

Translation into English by Werner Stocker (Ft. Myers, FL USA).
© Copyright www.rlm.at and the contributing author(s). All Rights Reserved. Used with permission.

Terms of use: All material within this site is protected under copyright and may only be reproduced for personal use. You must contact the Author(s) and/or Editor for permission to use any material on this site for any purpose other than private use!