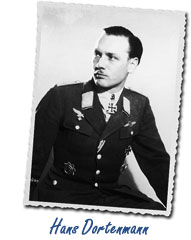 A year ago Axel Dortenmann contacted me. He is the son of fighter pilot Hans Dortenmann. He asked me to build a replica of his fathers Focke­Wulf Fw 190 A-8. The friendly cooperation with Herrn Dortenmann led to many original photos coming my way and made it possible to create as accurate a replica as possible. He was very satisfied and asked me if I could also build a replica of the aircraft his father flew until the end of the war:

a Focke-Wulf Fw 190 D-9

My interest in this special fighter pilot grew as I learned more about the man and as I built models of his aircraft. I was in constant contact with Herrn Dortenmann who supplied me with more and more information which helped in making the construction of the models more fun, so much so that I built two D-9's one for Herrn Dortenmann and one for myself. Through Herrn Dortenmann, I came in contact with Axel Urbanke via e-mail. Through him I received a copy of his book which deals with the history of the pilots of JG26 and JG54 who flew the D-9 from 1944 until war's end. This book reads like a good story with diary entries, eyewitness accounts and letters to relatives. An accurate impression of this period is conveyed by this book.