Junkers Ju 52 / 3m See

Diorama (1:144) built by Klaus Herold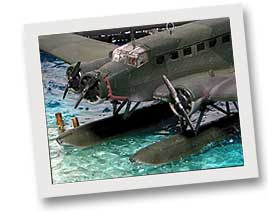 I wrote in my first article on this web page previously that my scale was 1/32 and now in my second article I have to recant that. The subject is a Junkers Ju 52/3m in 1:144 scale. I had always been fascinated by this aesthetic aircraft. When a friend told me about his father's adventures during World War II flying this aircraft I was hooked: I must build this machine.

I also decided to build an aircraft with markings that his father could have flown. It had to be an aircraft with pontoons and therefore I bought the kit from Eduard, a Ju52/3m in 1:144 scale. The quality of the kit is very good and within a week I had completed the kit without any problems. I really enjoyed adding the small photo etch parts included in the kit. The real challenge was the water. My little "auntie" Ju was not meant to be somewhere on land but was to float somewhere in the Mediterranean. I bought a proportionally correct picture frame and glued the glass that was provided as the bottom. I sealed the whole thing with wood glue. Now I created the sea floor from spackling compound. After this hardened, I applied more wood glue in order to sprinkle some fine quartz dust from the aquarium store. I let everything dry well and then started to create the water effect.

Here I used a type of clear resin usually used to make key chains. I poured layer upon layer of my "water" into the frame. Up to the last layer I colored each one with a special pigment. One has to be careful with this pigment and use very little since it has a powerful coloring effect. The layers were between 3 and 4 mm thick. The last layer remains clear. While the hardening process was going on, I used a toothpick to sculpt the wave effect. I really enjoyed the work on this small diorama and I learned how to work with water effects for the first time. The only downside was the horrendous smell of the resin. When I look at the pictures of the diorama, I feel that the smelly work was worth it. I presented the diorama to my friend. His father was also quite taken by my creation. What could be more satisfying?
Junkers Ju 52 / 3m

Diorama built by Klaus Herold, photos taken by Gerhard Moder

Gallery with diashow function: the direct download of an image on display is not possible anymore!
Please follow these steps for downloading: move with the mouse over the preview image and do a right mouseclick, which opens a menu with following option: save target (or link) as: will save the image in large size …

| | | | | | | |
| --- | --- | --- | --- | --- | --- | --- |
| | | | | | | |
| Image 1 | | Image 2 | | Image 3 | | Image 4 |
| | | | | | | |
| | | | | | | |
| Image 5 | | Image 6 | | Image 7 | | Image 8 |

(click the images to enlarge)


meet the modeler

Klaus Herold

My name is Klaus Herold. I was born on March 4th 1979 and grew up in Pinkafeld, Burgenland, Austria. I am studying pharmaceutical science in Graz and have been modeling since my early childhood. Certainly there have been, as with so many others, interruptions in my model building. Since 2002 I have enthusiastically returned. My main interests are primarily the aircraft of World War II, especially those of the Luftwaffe. Now and then I make "excursions" into other areas of modeling.

My goal is to build each new aircraft more detailed than the previous one. I am constantly searching for new techniques, materials and ideas. Since my favored scale is 1/32 I find that with patience and skill one can make an even better model than what the manufacturer and the accessories market offers. I hope that someday the "perfect" model will grace my modeling table. I hope that this day is far into the future and my learning curve will continue over the years.
Email: Klaus.Herold@gmx.at


This page: GALLERY: Junkers Ju 52/3m See (1:144) - built by Klaus Herold
was last modified on: Apr 9, 2006
The URL of the page is: http://www.rlm.at/cont/gal21_e.htm

© Copyright www.rlm.at and the contributing author(s). All Rights Reserved. Used with permission.

Terms of use: All material within this site is protected under copyright and may only be reproduced for personal use. You must contact the Author(s) and/or Editor for permission to use any material on this site for any purpose other than private use!