Dirrty !

Dioramas (1:35) built by Werner Kampfhofer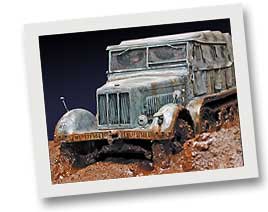 I was always dreaming about hunting some of my built kits through mud. But how to achieve that? How to create the mud? Which material would cause me the least expense?

I spent years, no joke, with experiments and different sorts of sand, which in the end fizzled. I did not want to start working with flour as in my opinion food is for consumption and not for modeling.

I was also searching for a colored base, where I could position my kit. Finally I agreed with myself upon a dark brown joint compound, normally used to fill the gaps between tiles. I did not test this one in advance, a fatal error which I realized almost too late...
Diorama: 9. Flakdivision, Flakregiment 37, Russia - Mariupol Area, March 1942

But first of all I had to find an object which I could dip into the compound and decided to use Tamiya's Sd.Kfz.7 with 8,8 Flak 36. I thought of a scene in spring, shortly after the snowmelt. Thus I built a canvas around the crew compartment of the Sd.Kfz.7. This sort of protection can be seen on many pictures and I cur it from aluminium foil. A lot of detail had to be added in the area of the clutch, as the kit is rather spartan in this area. The other amendments, based on drawings and photographs were quickly added. This time there was no need to care about the accuracy of the running gear and tracks! I could use the kit parts which would be drowned in mud shortly.

Much more attention has to be paid to the 8,8 Flak as there are lots of things to add and refine and there were moments I wanted to scrap the whole thing. Especially the Sd.Ah. 142 has been neglected from Tamiya badly and adding the tools and their supports was the easy part. Installing the pneumatic pipes for the brakes correctly became my personal challenge! Finally I found the relevant reference material. I also used the kit wheels. To resemble mud on the vehicles I used Revell putty and smeared it on the undercarriage. Finally it turned out to be a waste of time as most of the dirt remains invisible.


Painting

I added the winter camo with white Guache paint on the acrylic base which allows to simulate wear, tear and scratches rather easily with wet cotton swabs and tooth picks. To avoid any unwanted damage from sticky fingers a layer of Gunze Sangyo H20 is required.




The base

The diorama is located on a picture frame and the scenery is built up from Styrofoam. I cut out the desired grooves and dry fitted the kits. While adding the first layer of compound I knew that it would not work as it was too coarse. I was wise enough and did not built in the vehicles. Nevertheless, I was in panic, as the material created bubbles and started to lacerate during the drying time. Once dry I corrected the errors but then the vehicles did not fit anymore! The joint compound distended and changed the size of the grooves. Tile compound, mixed with wallpaper paste turned out to become my life saver. I colored it with brown dye, poured it over the diorama, fitted in the vehicles and tried to create a realistic muddy road.

It is essential to resemble a wet and slowly moving mass which required a lot of patience as the wallpaper paste did not dry quickly and whenever I had sculptured a nice little wave, it flattened. I think it took me three hours to get the desired shape. Although dyed the mud did not look convincing and I had to paint it with a mixture of brown enamels and Italeri gloss varnish (very expensive, but convincing!). But, the base was soaking the paint which then turned flat on several areas. Rework was required, not once. I added the final layer of paint on the delivery day of the diorama and until now it is still shining.
Diorama: 9. Flakdivision, Flakregiment 37, Mariupol Area, March 1942 (1:35)

Diorama built by Werner Kampfhofer, photos taken by Wolfram Bradac

Gallery with diashow function: the direct download of an image on display is not possible anymore!
Please follow these steps for downloading: move with the mouse over the preview image and do a right mouseclick, which opens a menu with following option: save target (or link) as: will save the image in large size …

| | | | | | | |
| --- | --- | --- | --- | --- | --- | --- |
| | | | | | | |
| Image 1 | | Image 2 | | Image 3 | | Image 4 |
| | | | | | | |
| | | | | | | |
| Image 5 | | Image 6 | | Image 7 | | Image 8 |

(click the images to enlarge)


Diorama: 1. Panzerdivision, Panzerregiment I, Brody Area - March 1944

Personally I thought that I would not have to deal with Tamiya's Panther Ausf. A ( from 1969 ) anymore and concentrated on Dragon's Panthers. Situation changed, when Tamiya's old buddy stranded on my workbench in early 2004. The kit was already built and equipped with an IR sight for the commander. My basic concept was to keep it in that version, just remove the awful Zimmerit and add a new layer of paint. After some research I had to realize that currently no trustworthy photographs of Panther Ausf. A with IR equipment are available and the eyewitness reports were too fuzzy for my taste. Thus, new target: no IR, but an Ausf. A, made by Daimler-Benz in September 1943.

Removing the old Zimmerit turned out into a little nightmare and without adding new Zimmerit the kit would have been lost. Daimler-Benz and MNH applied the Zimmerit rather rude, so the effect on the kit was achieved on purpose and not because of my poor skills. I cut out the MG-bow from the front hull and closed the gap with plastic sheet. I used Revell individual tracks. Idler and commanders copula are from Modeling Artisan Mori. The commanders hatch is equipped with all periscopes and the elevating mechanism fort he hatch cover. Some drivers and co-drivers periscopes had to be built from scratch. For them I used parts from JLC. Tanks of this contract section had an interlocked connection between sidearmor and upper hull.

With a bit of plastic sheet and putty these seams can be resembled rather easily. The other parts were mostly cannibalized from Italeri's Panther Ausf. D. Someday I want to build a Flakpanzer Coelian prototype with this kit, thus a lot of parts are unnecessary and can be used for other projects. The etched parts are from Eduard, SMAP and ABER and while adding the tiny chains I asked myself more than once about the reason for doing this. I removed the excess of the superglue with a stiff brush, cotton tabs and liquid for removing superglue. Unfortunately this liquid is evaporating rather quickly and one has to speed up.

The truck is from PSP and apart from one badly molded area in the front platform gate quite OK. I real mess is the fact that neither tarp hoops nor a tarpaulin are supplied with the kit. Especially on French trucks these are very delicate and difficult to resemble. I helped myself with a Vacu canvas from a Hobby Schmidt kit, although it was 2mm too short in length. Some layers of plastic sheet helped me to overcome this obstacle. Then I tried to represent a more realistic surface by adding a layer of Andrea Putty. It was in vain, as I did not manage to get the putty smooth and thin. So I had to rely on alu foil once again.


Painting

I used white Guache for the winter camo too. After I sealed it, I added chipped paint with Vallejo Air Panzer Grey and resembled wear and tear with different oil colors.




The base

The same materials as in the previous diorama were used. As the base should not become that muddy this time, an average usage of gloss varnish was recommended. The tree is based on a dead bonsai, the twigs were built of sepiolite and then the whole thing was painted.




The figures

I have chosen, arranged, built and primed all figures. They were painted by Christoph Heugl, who is using Humbrol and Revell enamels.
Diorama: 1. Panzerdivision, Panzerregiment I, Brody Area - March 1944 (1:35)

Diorama built by Werner Kampfhofer, photos taken by Wolfram Bradac

Gallery with diashow function: the direct download of an image on display is not possible anymore!
Please follow these steps for downloading: move with the mouse over the preview image and do a right mouseclick, which opens a menu with following option: save target (or link) as: will save the image in large size …

| | | | | | | |
| --- | --- | --- | --- | --- | --- | --- |
| | | | | | | |
| Image 1 | | Image 2 | | Image 3 | | Image 4 |
| | | | | | | |
| | | | | | | |
| Image 5 | | Image 6 | | Image 7 | | Image 8 |

(click the images to enlarge)
Books / References:
Achtung Panzer: Panther
Panzer Tracts 5-2: Panther Ausf. A
Waffen Arsenal S24: Panther im Einsatz
Spielberger: Panther und seine Abarten
Panzers in the East (2): Decline and defeat 1943-45
Panzer Colours 1-3
Internet
meet the modeler

Werner Kampfhofer

Hi, I am Werner Kampfhofer, born 1963-03-05 in Vienna. I live there with my wife, my son and currently 3 dogs. My modelling career started at the age of nine and a plane from airfix. What began sporadically, turned into manic over the years (that's at least the opinion of my wife).

My main focus are AFV in 1/35, without a historical limit and I have no objections against kits from other branches. I always try to get out the best of me and thus modelling is not fun for me anymore, it is work, but a work I enjoy.
Email: tankbuster@chello.at
Web: www.wk1963.at


This page: GALLERY: Dirrty! - Dioramas built by Werner Kampfhofer (1:35)
was last modified on: Jul 22, 2005
The URL of the page is: http://www.rlm.at/cont/gal13_e.htm

© Copyright www.rlm.at and the contributing author(s). All Rights Reserved. Used with permission.

Terms of use: All material within this site is protected under copyright and may only be reproduced for personal use. You must contact the Author(s) and/or Editor for permission to use any material on this site for any purpose other than private use!