Heinkel He 162 A-2

Luftwaffe Aviation Art - Color profiles by Simon Schatz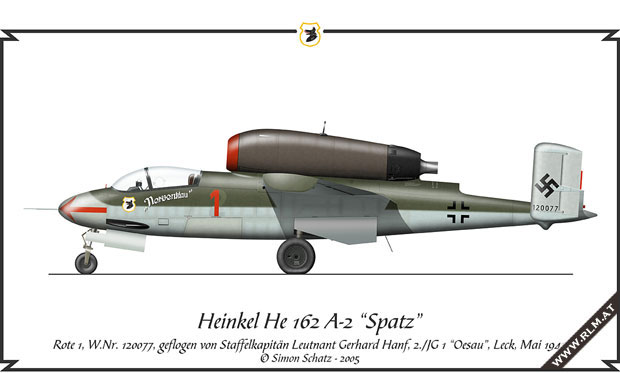 Markings

"Red 1", flown by Staffelkapitän Lieutenant Gerhard Hanf, 2./JG 1, Leck, May 1945




References / profiles

Gerhard Hanf and "Nervenklau", Peter Cronauer
Jet & Prop 4/05 page 34, VDM Heinz Nickel




Additional informations

Heinkel 162, W.Nr. 120077 originated at Heinkel North (Roststock-Marienehe) production line and was probably completed in April 1945. If this machine was painted according to surface protection list #8 -162 issued on January 9th 1945, cannot be 100% determined. Color photos from the same production run show a green fuselage (RLM 82) and a brownish (RLM 81) engine cowling. I have stuck to these color references in my profile. The lower fuselage, the under wing surfaces as well as the tail plane were painted RLM 76. Upper wings were probably painted RLM 81/82.

According to Gerhard Hanf the turbine front cowling was red. Color photos that verify this do not exist. Red are also the arrows on the fuselage as well as the "1". The former "2" was painted over. On both sides of the fuselage the emblem III. /JG 77 is painted on. On the left fuselage side the word "Nervenklau" is neatly painted. The ground crews were responsible for that. On April 29th 1945, Lieutenant Hanf flew his 18th and last time with the He 162. W.Nr. 120077 survived and is part of the collection of the "Planes of Fame" collection in Chino, USA.

Publications:

MILITARIA XX wieku Nr. 2(11)

He 162 peoples fighter article
Jakub Piewa, Kagero

The profile originated from a series of profiles from the above publication.
My special thanks go to Mirsolav Bily and Michal Bradac for the kind permission to use their drawings as base for my work. They were taken from Miroslav Balous and Miroslav Bily's publication.
Heinkel He 162 Spatz (Volksjäger)
MBI Publications
ISBN 80-86524-06-X
meet the Author:

Simon Schatz

1978 I was born in Vienna and I am working as technical employee in an architect's office. I am building plastic models since I am 12. It started with a F-16 Fighting Falcon in 1/32, which was followed by a few cars and trucks. A Heinkel He111 H-6 in 1/72 brood my interest for the German Luftwaffe. Since 2001 I am creating color profiles also.

Some of them have been already published in relevant magazines and books. The motto for building models and drawing profiles is the same: Learning by Doing. To practise my passion it is required to collect the necessary documentation, an expensive, but interesting hobby, especially when I can obtain rare second hand aviation antiquars.
Email: simon_der_flieger@yahoo.de
Online-Portfolio / Publications


This page: PROFILES: Heinkel He 162 A-2
was last modified on: Mar 27, 2008
The URL of the page is: http://www.rlm.at/cont/profil17_e.htm

Translation into English by Werner Stocker (Ft. Myers, FL USA).
© Copyright www.rlm.at and the contributing author(s). All Rights Reserved. Used with permission.

Terms of use: All material within this site is protected under copyright and may only be reproduced for personal use. You must contact the Author(s) and/or Editor for permission to use any material on this site for any purpose other than private use!