Focke Wulf Fw 190 A-9

Luftwaffe Aviation Art - Color profiles by Simon Schatz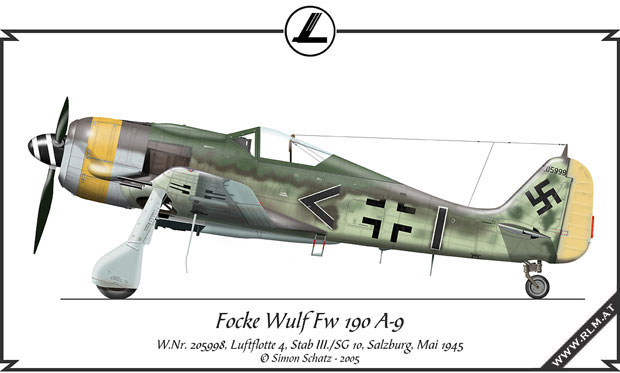 Markings

Stab aircraft of the III. Group of SG 10, W.Nr. 205998 - Salzburg, May 1945




References / profiles

The picture came from an unknown collection and had not been published before.




Additional informations

The pictured aircraft was built between October and November at Focke Wulf, Cottbus. Noticeable are the differences to the standard A-9 series. First there is no "blown" canopy and second there is no wooden propeller but the VDM propeller. The power plant and the propeller are possibly from another aircraft. There are noticeable differences between the paint of the aircraft near the engine and the camouflage of the rest of the aircraft.

The camouflage could have looked as follows: Fuselage RLM 75/83/76 whereby the RLM 76 was the gray –green version. The previous markings were over painted with RLM 81. The separation between 75/83 and 76 was additionally emphasized. Upper surfaces were RLM 75/83. We can assume that since this aircraft was built towards the end of the war the under sides were only partially painted. The yellow ring around the nose of the aircraft assigns it to Luftflotte 4.

Since at the time only Schlachtgeschwader 10 had a III. Group we can assume that this aircraft belonged to the Stabsschwarm of the III. Group of this Geschwader. The aircraft was captured by American troops in Salzburg during May of 1945.

Publications:

Verluste der deutschen Luftwaffe in Österreich -
September 1943 bis Mai 1945

Hans Handig und Mag. Martin Handig
ÖFH Österreichische Flugzeug Historiker
ISBN 3-200-00543-2

My Fw 190 profil is printed in this book!
meet the Author:

Simon Schatz

1978 I was born in Vienna and I am working as technical employee in an architect's office. I am building plastic models since I am 12. It started with a F-16 Fighting Falcon in 1/32, which was followed by a few cars and trucks. A Heinkel He111 H-6 in 1/72 brood my interest for the German Luftwaffe. Since 2001 I am creating color profiles also.

Some of them have been already published in relevant magazines and books. The motto for building models and drawing profiles is the same: Learning by Doing. To practise my passion it is required to collect the necessary documentation, an expensive, but interesting hobby, especially when I can obtain rare second hand aviation antiquars.
Email: simon_der_flieger@yahoo.de
Online-Portfolio / Publications


This page: PROFILES: Focke Wulf Fw 190 A-9
was last modified on: Jan 15, 2007
The URL of the page is: http://www.rlm.at/cont/profil14_e.htm

Translation into English by Werner Stocker (Ft. Myers, FL USA).
© Copyright www.rlm.at and the contributing author(s). All Rights Reserved. Used with permission.

Terms of use: All material within this site is protected under copyright and may only be reproduced for personal use. You must contact the Author(s) and/or Editor for permission to use any material on this site for any purpose other than private use!