MOSON MODEL SHOW 2017 - Modelshow / Modelcontest in Hungary

Apr 22 - 23, 2017 at Mosonmagyaróvár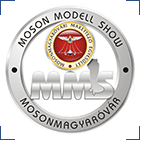 Another Year, another Moson Model Show in Mosonmagyaróvár (Hungary), this year for the 21st time! A first was the new location, a nice open sports hall where you get the breathtaking models of the contest.

As one of the top notch model shows in the heart of europe the audience is very international, the same goes for the workshops/presentations. Amazing how-tos presented by e.g. Mike Rinaldi, Bernhard Lustig, Doug Lee and Özgür Güner, to mention a few. Wow what a busy schedule if you want to attend all the courses. Naturally all the various traders present their new goods, every hobby need will be fullfilled!

Every Year the Moson Model Show is highlighted in red in the RLM.at calender, make sure you be there, you won't be disappointed!
Moson Model Show 2017, Mosonmagyarovar

Photos taken by Wolfram Bradac

Gallery with diashow function: the direct download of an image on display is not possible anymore!
Please follow these steps for downloading: move with the mouse over the preview image and do a right mouseclick, which opens a menu with following option: save target(or link) as: will save the image in large size …

some impressions from the show...

All of the pictures shown here are neither used commercially nor industrially. If somebody displayed here wants to have the picture removed, please send a short email to: luftwaffe@chello.at
(click the images to enlarge)
| | | |
| --- | --- | --- |
| | | |
| | Modelcontest Moson Model Show 2017 - links: | |
| | | |
| | | |
| | | |
| | | |
This page: GALLERY: Modelcontest MOSON MODEL SHOW 2017 at Mosonmagyarovar (Hungary)
was last modified on: Apr 23, 2017
The URL of the page is: http://www.rlm.at/cont/gal998_2017_e.htm

© Copyright www.rlm.at and the contributing author(s). All Rights Reserved. Used with permission.

Terms of use: All material within this site is protected under copyright and may only be reproduced for personal use. You must contact the Author(s) and/or Editor for permission to use any material on this site for any purpose other than private use!