Allied wheels - GMC CCKW 353 w. KIT No.7 & Bedford QLD

built by Gerhard Strobl(1:35)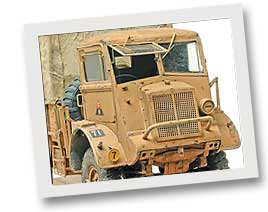 Bedford QLD

The base of this conversion was an old Italieri kit of the Bedford QL with the open cab. First the cab received a new windshield, a new roof and proper doors mad from Evergreen sheet styrene. The windshield is fashioned from overhead screen film. The gas tank and the mounting for the spare wheel are also made from Evergreen material. Eduard photo etch is also used for details. The pallet is made from a mix of teak wood and styrene strips. The many visible bolts on the sides are made from 0.5 copper wire stuck into previously drilled holes. The hooks and stiffeners of the canvas top are made from wire. The canvas is made from colored Kleenex. The brackets for the canisters are made leftover photo etch scraps.
The whole vehicle was painted with Tamiya desert yellow. Again turpentine mixed with a little umbra was brushed over the whole vehicle. Scratches and worn paint was simulated with dark green Humbrol paint. Dirt, dust and rust were done with thinned oil paint and dry color pigments.




GMC CCKW 353 w. KIT No.7

This GMC model was built with three kits, one resin accessory set and one photo-etch set. There also was some scratch building involved. I used a picture of a vehicle photographed in Italy at the base of the U.S.325th Fighter Group parked on the perimeter of an airfield. It is a rather unusual version of this Wrecker (hood and wheels).

Cab and hood are from the Italieri water tank truck (it does not have a hole in the cab). Frame and cargo area are from the cargo truck of the same firm. The motor and the wheels are from the Tamiya Cargo GMC. The lifting device (crane) is from NKC modeles (Set #7), the photo etch is from Aber. The firewall between the motor and cab as well as the searchlight are scratch built. The cargo is a mixture of scratch built and manufactured parts from various firms. I particularly like the small parts from Plus Model such as the yellow oil canister, the enameled pail and the paint cans. It certainly livens up the monotonous appearance of military vehicles. The wooden planking and benches are made from model ship planking.

I painted the vehicle with acrylic colors from Tamiya, a mixture of olive drab, olive green and yellow. The hood was first painted yellow and those parts that were to remain yellow were masked with 2x2mm squares and then painted black. After the paint has dried the whole vehicle was coated with a mixture of turpentine and umbra to simulate dirt. Scratches and paint chipping, I have simulated with olive drab darkened with black and Model Master Metalizers mixed with oil colors. Finally a little rust and grime and dust are added with thinned oil colors in various browns. Dry pigments were also used, sometimes mixed with a little water.
Allied wheels - GMC CCKW 353 w. KIT No.7 & Bedford QLD (1:35)

Model built by Gerhard Strobl, photos taken by Wolfram Bradac

Gallery with diashow function: the direct download of an image on display is not possible anymore!
Please follow these steps for downloading: move with the mouse over the preview image and do a right mouseclick, which opens a menu with following option: save target (or link) as: will save the image in large size …

| | | | | | | |
| --- | --- | --- | --- | --- | --- | --- |
| | | | | | | |
| GMC CCKW 353 | | GMC CCKW 353 | | GMC CCKW 353 | | GMC CCKW 353 |
| | | | | | | |
| | | | | | | |
| GMC CCKW 353 | | GMC CCKW 353 | | GMC CCKW 353 | | GMC CCKW 353 |
| | | | | | | |
| | | | | | | |
| GMC CCKW 353 | | GMC CCKW 353 | | GMC CCKW 353 | | GMC CCKW 353 |
| | | | | | | |
| | | | | | | |
| GMC CCKW 353 | | Bedford QLD | | Bedford QLD | | Bedford QLD |
| | | | | | | |
| | | | | | | |
| Bedford QLD | | Bedford QLD | | Bedford QLD | | Bedford QLD |

(click the images to enlarge)


about the modeler

Gerhard Strobl

My name is Gerhard Strobl and I was born in Vienna in 1957. I started building models about seven years ago and about three years ago the models began to resemble somewhat their larger real cousins. My main interest are trucks of the Allied powers of the war and pre-war years. There are not that many kits so I try to bash together whatever moved on wheels and tracks during this period.

If anybody would like to see the real thing go to Vienna's 17th District, Kalvarienberggasse 58 "Modellbau Paul Vienna" and look around. All my models end up there for some time after they are completed.
(† 2013) We will always remember you!


This page: GALLERY: Allied wheels - GMC CCKW 353 w. KIT No.7 & Bedford QLD (1:35)
was last modified on: Mar 30, 2004
The URL of the page is: http://www.rlm.at/cont/gal25_e.htm

© Copyright www.rlm.at and the contributing author(s). All Rights Reserved. Used with permission.

Terms of use: All material within this site is protected under copyright and may only be reproduced for personal use. You must contact the Author(s) and/or Editor for permission to use any material on this site for any purpose other than private use!