Messerschmitt Bf 109 G-6, flown by Hauptmann Anton Hackl, 1944

built by Klaus Herold (1:32)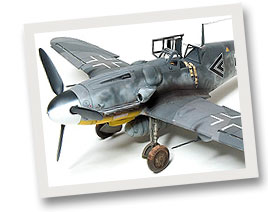 This aircraft was flown by Hauptmann Anton Hackl when he was with III. /JG 11 during 1944. What is unique about this aircraft is the white tail plane and the rather unorthodox blotch camouflage on the fuselage. It also is a "Kanonenvogel" as the two 20 mm gun pods under the wings show.

This is my first model after a year-long abstinence from model building and it is also my first aircraft that contains added accessories. The basic kit is the Hasegawa Bf 109 G-6 in 1/32 scale. I added an Aires cockpit set, parts from the Verlinden detail set for the Bf 109 G-6 and decals by Eagle Strike. Other detail parts on this model I kept within limits. These include for instance thin copper wire for the antenna cord, details for the MK 151 20 mm gondolas and wire for the hydraulic brake lines as well as very thin stretched sprue for the dive angle indicators on the canopy sides.

It was a special pleasure to find a fitting base for my model. Here the modeler can breathe easy since almost anything will fit the bill. Snow was made from a mixture of wood glue, sodium hydroxide and water. The models sits on boards normally used by wooden ship builders. I really enjoyed building this model and it is perfect for a modeler trying to get back into the hobby as well as a newcomer. The fit is extraordinary and even straight out of the box one can build in relatively short time a beautiful replica of one of the most successful fighter of all time - the Messerschmitt Bf 109.
Messerschmitt Bf 109 G-6, flown by Hauptmann Anton Hackl, 1944

Diorama built by Klaus Herold, photos taken by Wolfram Bradac

Gallery with diashow function: the direct download of an image on display is not possible anymore!
Please follow these steps for downloading: move with the mouse over the preview image and do a right mouseclick, which opens a menu with following option: save target (or link) as: will save the image in large size …

| | | | | | | |
| --- | --- | --- | --- | --- | --- | --- |
| | | | | | | |
| Image 1 | | Image 2 | | Image 3 | | Image 4 |
| | | | | | | |
| | | | | | | |
| Image 5 | | Image 6 | | Image 7 | | Image 8 |
| | | | | | | |
| | | | | | | |
| Image 9 | | Image 10 | | Image 11 | | Image 12 |

(click the images to enlarge)


meet the modeler

Klaus Herold

My name is Klaus Herold. I was born on March 4th 1979 and grew up in Pinkafeld, Burgenland, Austria. I am studying pharmaceutical science in Graz and have been modeling since my early childhood. Certainly there have been, as with so many others, interruptions in my model building. Since 2002 I have enthusiastically returned. My main interests are primarily the aircraft of World War II, especially those of the Luftwaffe. Now and then I make "excursions" into other areas of modeling.

My goal is to build each new aircraft more detailed than the previous one. I am constantly searching for new techniques, materials and ideas. Since my favored scale is 1/32 I find that with patience and skill one can make an even better model than what the manufacturer and the accessories market offers. I hope that someday the "perfect" model will grace my modeling table. I hope that this day is far into the future and my learning curve will continue over the years.
Email: Klaus.Herold@gmx.at


This page: GALLERY: Messerschmitt Bf 109 G-6, flown by Hauptmann Anton Hackl, 1944 (1:32)
was last modified on: Aug 2, 2005
The URL of the page is: http://www.rlm.at/cont/gal03_e.htm

© Copyright www.rlm.at and the contributing author(s). All Rights Reserved. Used with permission.

Terms of use: All material within this site is protected under copyright and may only be reproduced for personal use. You must contact the Author(s) and/or Editor for permission to use any material on this site for any purpose other than private use!